Elwood, IN
August 12, 2006
Skip Bartz, Chuck Leucht, Michael Mossman, Charlie Westerfield and Chad Williams head to an ultralight fly-in at Westfield Airport.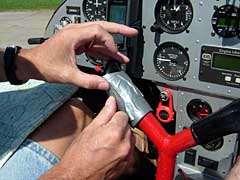 Just as I board the aircraft I break the stick grip with my foot. Not being a safety-of-flight issue, a quick strip of duct tape gets me on my way.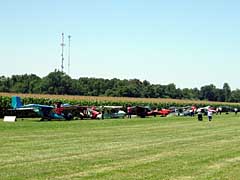 Westfield is a grass airfield that is populated mainly by ultralights. They fly in for the day's festivities.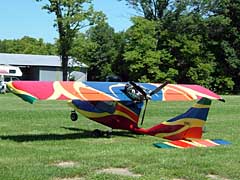 We spy this brightly-painted Titan Tornado at Westfield.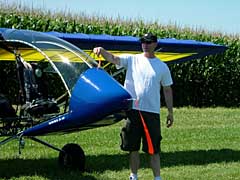 Skip Bartz highlights the simple but effective instrumentation on this RANS.
Ultralights aren't the only ones attracted to the fly-in. Ron Lehrman arrives in his Smith Miniplane, "Twitchy."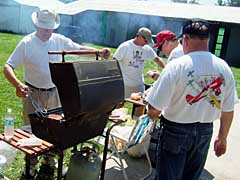 The big draw at any fly-in is the food. Here, the volunteers are cooking hamburgers.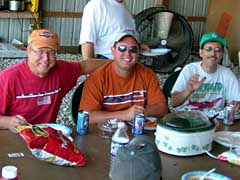 Chuck Leucht, Chad Williams and Chuck Long feast on Westfield's goodies.
---
Comments&nbsp&nbspControls&nbsp&nbspEngine&nbsp&nbspElectrical&nbsp&nbspFuselage&nbsp&nbspInstruments&nbsp&nbspInterior&nbsp&nbspLanding Gear&nbsp&nbspMistakes&nbsp&nbspPainting&nbsp&nbspTest Flying&nbsp&nbspWings